Six ways verified imagery supports the planning process
Tuesday 26th April, 2022
Verified Imagery or Verified Views, formally known as Accurate Visual Representations (AVRs), is increasingly being used in the decision-making process for planning applications, and it is one of Virtual Resolution's main areas of expertise and activity.
Read on to find out what verified imagery is and why it's such a useful resource during the planning process.
What is verified imagery ?
Verified imagery is the superimposing of a digitally created image on top of a photograph of a real-life site. This means it accurately shows how a proposed development would look in reality and how it would sit within the context of its environment.
Verified views offer an unbiased representation of a proposed development, creating a trusted, accurate and authenticated visual representation of how it will look.
The process of creating an AVR involves a number of steps, which are:
Professional photography
Surveying specified points
Camera matching
Creation of 3D models
Production of verifiable photomontage
Production of verified report
How are verified views created ?
Verified views are created by combining original photographs and accurate computer-aided design (CAD) drawings with verifiable visual information and quantifiable data from site surveys and mapping.
Specialist techniques and computer software are used to create the verified images, and the process is fully documented in a report which adheres to the latest industry standards and technical guidance.
The verified views we produce are always of high quality and use survey data which makes them Type4 images, but the level of detail depends on various factors such as budget, timescale, the size or stage of the project, and the kind of audience it's aimed at. All our AVR-Type4 imagery is created according to different levels of AVR detail, known as Level0, Level1, Level2 and Level3.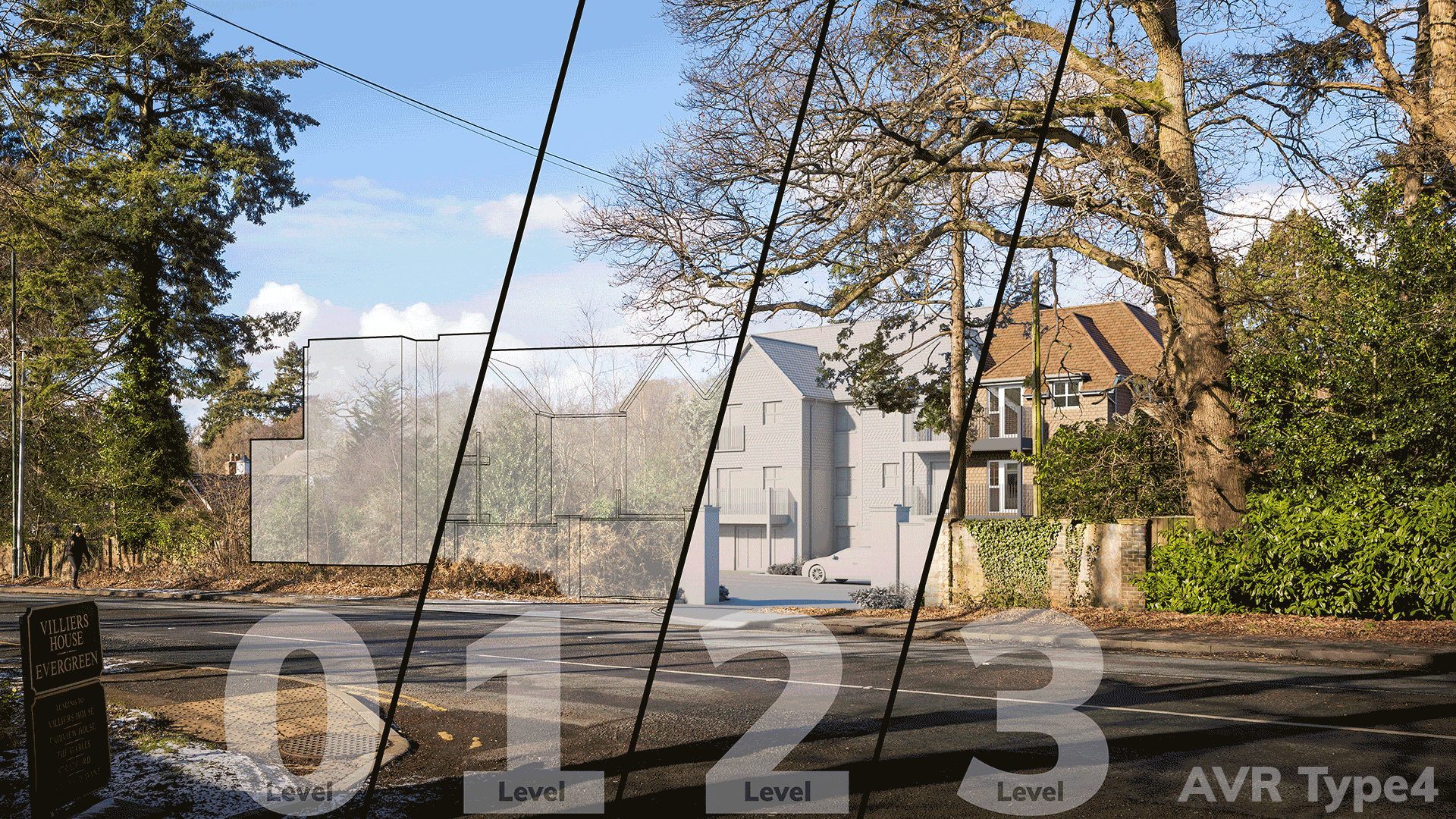 How verified imagery supports the planning process
1. It is a trusted source of information
As a verified view, the image is trusted by a range of people involved in the planning process. There can often be debate around the final appearance of a potential development, and it can be difficult to envisage how it will look in reality. Verified imagery can give a realistic impression of this.
2. Verified views help assess the impact of a development
Because of their accuracy, verified views are often used as part of assessments on areas such as the environment or transport infrastructure. They are also a valuable tool in addressing potential issues or amends to a proposal and inviting useful feedback.
3. Verified imagery can be useful to other professionals on the project
Professionals who are not directly involved in the planning process but have a role in the proposed development, such as designers, can also use verified imagery because it accurately shows proposed measurements, allowing, for example, materials to be selected.
4. Verified views can be used in public consultations or inquiries
Verified imagery can be a helpful resource for people who have an interest in a proposed development but have neither a professional role in the process nor possess a technical background. This could include neighbouring residents of the site, who may not understand architectural plans and elevations.
5. Verified views are useful in promoting a proposed development
Verified imagery can be used in the sales and marketing process for a new development. A verified image is often the basis for a more idealised and stylised artist's impression which appeals to buyers or investors. This image is usually less technical than the one provided for planners but is nevertheless based on exact measurements and visuals from the real-life site.
6. Verified images can lead to a more immersive experience for the viewer
Most verified imagery currently used in the planning process is based around drawings, photographs and CGI. But there is a growing area of technology that is allowing a more immersive experience through virtual reality. It's also possible to print a 3D model of the proposed development.
Our team at VR have extensive experience in creating verified views and other CGI imagery for all kinds of clients in the construction industry. Read more of our blogs or contact us on 01422 260 500.
Blogs