No.4 Wellington Place
PROJECT TYPE:
Commercial
External and Internal Visuals with a Marketing Animation
After a number of years working with MEPC, we were appointed by the developer to design the 3D visualisation for their Wellington Place development in the centre of Leeds.
Previously an empty, unloved space used for car parking, Wellington Place is being developed into a new business district for Leeds.
Set at the junction of Whitehall Road and Northern Street, Wellington Place is a leading site and gateway into the new business district. Its striking design fits well with the surrounding architecture and its landscaping architecture creates a more open, inviting feel.
We were asked to provide 3D visualisation for the project from the outset, firstly to assist with gaining planning permission for the different phases of the development. Our images helped to demonstrate the way the building would sit within the area and interact with the city's business sector.
These images were used as part of the public consultation, showing residents and nearby businesses how MEPC's plans would look in reality. Through 3D visualisation, we could demonstrate not just what the building itself would look like, but also how the landscaping would help it to blend into the surroundings and be part of the new district.
Once planning permission was granted and work had begun, we created photography, CGI images and 3D animation for the marketing of the building. With flexible open-plan office space totalling more than 77,000 square feet, MEPC was keen to showcase the building prior to completion in order to secure new tenants.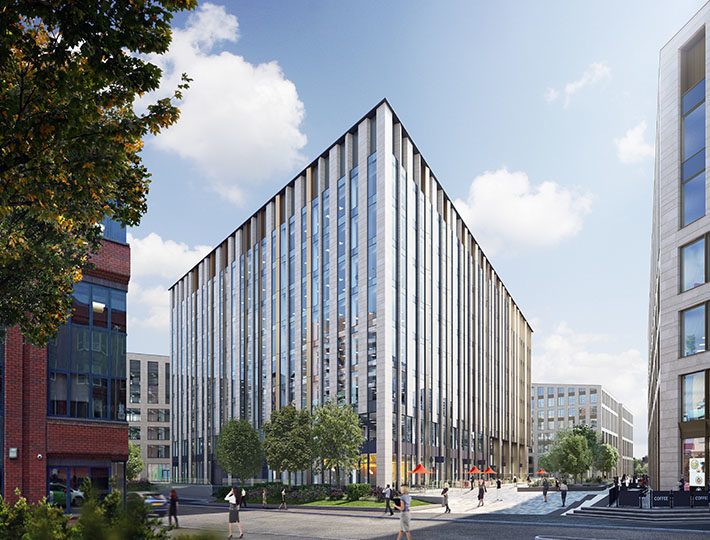 From approach and accessibility through to interiors, lighting and space, we delivered a package of detailed images and animation that would clearly show the quality of the new building. Alongside office accommodation, the ground floor units would offer retail and hospitality opportunities, both for occupants of the building and for passing trade from surrounding developments.
As a result, more than half of the available space was let before completion. Two full floors were taken by one large firm, and one of the ground floor units was snapped up by a growing chain of bars. Further enquiries were coming in regularly and leases for the remaining units are being negotiated.
As the project progresses we are also creating 360-degree photography tours, VR experiences and drone content to assist MEPC with the exciting future phases.